What You Should Know about Section 503
July 16, 2014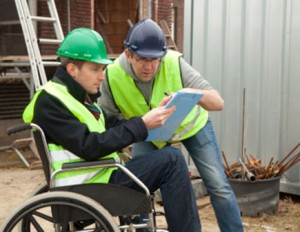 *This blog post was originally published on Disability.Blog, the official blog of Disability.gov.*
By Guest Blogger David Weaver, Associate Commissioner, Office of Research, Demonstration, and Employment Support, Social Security Administration
As we turn our attention to the 24th anniversary of the Americans with Disabilities Act this month, it's important to note that recently regulations were issued to provide people with disabilities greater opportunities for meaningful employment. This update to Section 503 of the Rehabilitation Act of 1973 offers advantages to people with disabilities, including those who are eligible to receive free employment services through Social Security's Ticket to Work program.
Section 503 requires that federal contractors and subcontractors – companies doing business with the federal government – take affirmative action to recruit, employ, train and promote qualified individuals with disabilities (IWDs). The changes, which went into effect March 24, 2014, strengthen the affirmative action provisions of the regulations to aid contractors in their efforts to recruit and hire IWDs.
Because of these new regulations, I expect that job opportunities for people with disabilities will improve. That's critical, because for too many years (despite advances in technology that enable people with disabilities to succeed in the workplace) both the unemployment rate of working-age persons with disabilities and the percentage of working age individuals with disabilities, who are not in the labor force, has been significantly higher than for those without disabilities.[1]
Here's what you need to know about these new regulations and what they mean if you are interested in pursuing employment with a federal government contractor:
First, Section 503 requires contractors to invite job applicants to voluntarily self-identify as an individual with a disability before being offered a job. Though you may have concerns about disclosing your disability, with the new Section 503 regulations, you may be open with a federal contractor about your disability without fearing discrimination.
Second, there is much confusion about the new rule that establishes a 7 percent utilization goal for federal contractors in the hiring and retention of workers with disabilities. This goal is neither a quota nor a ceiling for employing people with disabilities, but rather a goal a contractor is encouraged to meet. Employers who do not meet the 7 percent goal will not be fined or penalized, but they do have to collect data showing the number of people with disabilities that apply for jobs versus the number of people with disabilities who are hired, and make it available for review by the Department of Labor on request. By collecting this data, employers become more accountable for their employment decisions and practices, including their outreach and recruitment efforts to the disability community.
Finally, and most importantly, you may be wondering how and where you can take advantage of job opportunities that will result from these new regulations. The Ticket to Work program's employment service providers – Vocational Rehabilitation agencies and Employment Networks (including those American Job Centers and other workforce agencies that participate in the Ticket program) – are actively preparing to connect federal contractors with people with disabilities who are ready to work.
To get more information about Section 503, visit the Department of Labor's Office of Federal Contract Compliance Programs website or, if you're already receiving assistance from a Ticket to Work service provider, ask about how Section 503 can help you. Ticket to Work is hosting a webinar and a live Twitter chat to discuss the updates and answer questions you may have later this month. The free webinar, "More Jobs for People with Disabilities: What New Regulations Can Mean for You," will be held on July 30th at 3:00 p.m. – 4:30 p.m. EDT. The Twitter chat will be held on August 1st at 12:00 p.m. – 1:00 p.m. EDT. You can register for the webinar here.
For more information about how Ticket to Work and Work Incentives can help you or someone you know to find employment opportunities and begin their journey to financial independence, visit www.socialsecurity.gov/work. You can also email us at support@choosework.net, or call 1-866-968-7842 (V) or 1-866-833-2967 (TTY). Start today to make Section 503 work for you.
[1] The participation rate is the percentage of working age people (ages 16 to 64) who are employed and those who are unemployed but looking for work. In 2012, the workforce participation rate for working-age people with disabilities was 31.6 percent, compared to 76.5 percent of working age people without disabilities. In 2012, the unemployment rate for working age people with disabilities was 15 percent versus 8 percent for working age individuals without disabilities.
Posted in Leadership Messages | 0 Comment »