Celebrating Independence on the 24th Anniversary of the Americans with Disabilities Act
July 29, 2014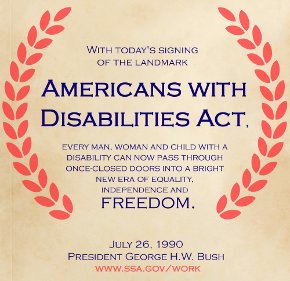 Earlier this month Americans celebrated our nation's independence. This week, we celebrate the 24th anniversary of the Americans with Disabilities Act (ADA).
On July 26th 1990, President George H.W. Bush signed the Americans with Disabilities Act into law. The ADA, he declared, was ". . .the world's first comprehensive declaration of equality for people with disabilities." Its impact was monumental. From employment and transportation, to government services and telecommunications, the ADA promised equal access and equal opportunity for people with disabilities from all walks of life.
For twenty-four years the ADA has ensured people with disabilities protection from employment discrimination, equal access to public places like schools, businesses, and government buildings, and access to communications technology enabling the free transmission of ideas and information. And as a result, more people with disabilities than ever are able to achieve their potential. In the words of Bob Williams, former Associate Commissioner for Social Security's Office of Employment Support Programs, "The Americans with Disabilities Act works." Mr. Williams was a leader in the fight to pass the ADA and witnessed the signing ceremony.
While the ADA continues to improve the lives of people with disabilities, barriers to full equality still exist, especially in the areas of employment and financial independence. Social Security's Ticket to Work program helps people with disabilities to overcome these barriers and provide a shot at the American Dream. By connecting disability beneficiaries to employment support services, the Ticket to Work program, like the ADA, helps Americans with disabilities achieve independence.
Celebrating independence isn't just for the Fourth of July. As we honor the progress made over the last twenty-four years, let us remember to champion the independence brought by work and self-sufficiency every day of the year. If you are a Social Security disability beneficiary age 18 through 64, the Ticket to Work program is here to help you. Learn more by visiting www.ssa.gov/work, or by calling our Help Line at 1-866-968-7842 (V) or 866-833-2967 (TTY) Monday through Friday from 8:00AM - 8:00PM ET.
Posted in Events | 0 Comment »