Webinar Spotlight: Alliance Professional Services and Arizona Bridge to Independent Living!
July 29, 2014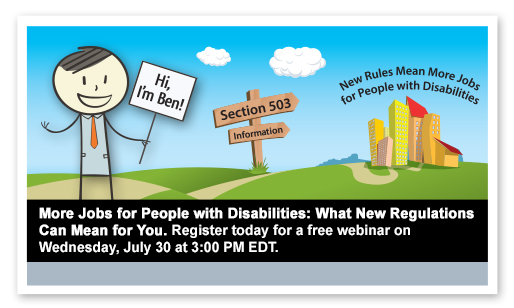 Join us on July 30, 2014, for a national WISE webinar: More Jobs for People with Disabilities: What New Regulations Can Mean for You!
The national WISE webinar will present information about Social Security programs and rules that may apply to you, including details about Section 503 of the Rehabilitation Act. Section 503 requires federal contractors and subcontractors to take action to recruit, hire, train, promote, and retain people with disabilities.
Our presenters for this webinar represent two Employment Networks (EN): Susan Webb from ABIL Employment Services (AES) and Pam Walker from Alliance Professional Services. ENs can work with you to discuss Section 503, including job opportunities, self-identification and reasonable accommodations.
Susan Webb is Vice President of ABIL Employment Services (AES), serving the Phoenix, Arizona area. AES has provided assistance and support to individuals with disabilities in the Ticket to Work program since 2002. All employment services are geared toward community-based, integrated employment. Peer support, advocacy, and mentoring are significant aspects of the services participants receive from AES in addition to other typical employment-related services. All of ABIL's staff members have personal experience with disability and have been on Social Security benefits at some point in their own lives.
Pam Walker is President and CEO of Alliance Professional Services. Alliance Professional Services is a national EN that offers educational and career planning, mentoring, résumé preparation, job search assistance, job leads, interview preparation and other services. These services are provided at no cost to individuals who participate in the Ticket to Work Program.
We invite you to join Susan and Pam as they talk about Section 503 and how the changes to the regulations may lead to more job opportunities for you. Register online at choosework.ssa.gov/wise or call 1-866-968-7842 (V) or 1-866-833-2967 (TTY). If you would like more information on the webinar, please check out this blog post.
Posted in Ticket Program News, Events | 0 Comment »