Today is World Mental Health Day
October 10, 2014
Did you know October 10th marks World Mental Health Day? Mental health issues are common, and without the right services, they can impact your ability to work. According to the National Alliance on Mental Illness: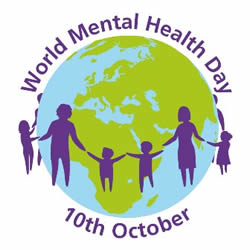 One in four adults – approximately 61.5 million Americans – experience mental illness each year.
One in 17 – about 13.6 million – live with a serious mental illness such as schizophrenia, major depression or bipolar disorder.
Approximately 60 percent of adults, and almost one-half of youth ages 8 to 15 with a mental illness received no mental health services in the previous year.
Serious mental illness costs America $193.2 billion in lost earnings per year.
Sponsored by the World Federation for Mental Health and observed by the World Health Organization, World Mental Health Day champions global mental health education, awareness and advocacy. Each October thousands of supporters and many mental health organizations celebrate this awareness day to bring attention to mental illness and its effects on peoples' lives worldwide.
On this 22rd World Mental Health Day, talk about mental health and explore support services for you or someone you know. It could be the first step to a healthier life and a fulfilling career.
Posted in Uncategorized | 0 Comment »