Autism's Assets: Larry Clay's Story
October 1, 2014
Our You Can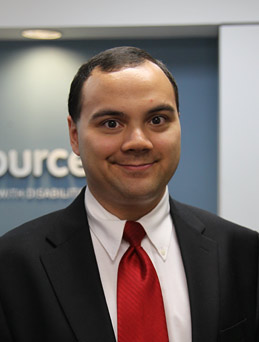 Work blog series celebrates the achievements of adults with disabilities who have found their path to a better future with help from the Ticket to Work program. This month, we introduce Larry Clay, a young man with an autism spectrum disorder (ASD). Individuals on the autism spectrum have a nervous system that causes them to experience their environment differently and think about things in ways that can be hard for others to understand.
Like many people considering employment, Larry wanted to work but was concerned about his Supplemental Security Income (SSI) benefits. He learned from a trained professional (known as a benefits counselor) that rules called Work Incentives allow many people to transition into the workforce while continuing to receive health care benefits, and some cash benefits from Social Security.
In 2011, he landed a job working at The Mark Center (a U.S. Department of Defense facility), where he is part of a team that sets up the center's 27 conference rooms. Harold Michael, Larry's supervisor, says he is a valuable asset to the team. "Larry has an outstanding work ethic, is energetic, and a good model for other workers." He points out that Larry's ability to visualize patterns and make quick calculations in his head allow him to fill orders efficiently. His interest in people and strong memory help him in the customer service aspects of the job as well.
After Larry had been working at his new job for three months, Vocational Rehabilitation (VR) closed his case and he began receiving continuing "post-employment" support services from a Ticket to Work Employment Network (EN). ServiceSource, an EN, helps him get the job accommodations he needs to succeed in the long-run.
Larry enjoys the sense of achievement he gets from a paycheck. He has left SSI cash benefits behind, and feels great about his job. "I'm learning to be more independent!" he says with pride. Check out Larry's full story.
With the right support, Larry found his path to a better future. Find yours!
Visit our website for more inspiring stories, and learn how Social Security's Ticket to Work program can help you.
Posted in You Can Work Series | 0 Comment »